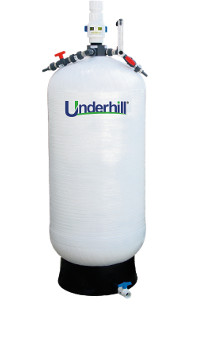 Hi-Flo Proportional Injection System

The affordable solution for applying liquid or water soluble wetting agent, fertilizers, acids and soil amendments using your irrigation system. Designed for golf, sports fields, and large landscape commercial applications.
Overview
Simple & Affordable
Size the tank needed for your application and connect into the irrigation mainline.
No Mixing
No Injection Limit
No Electricity Required
No Moving Parts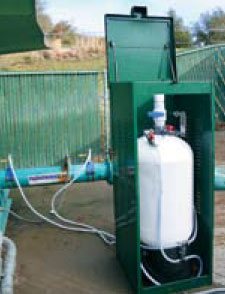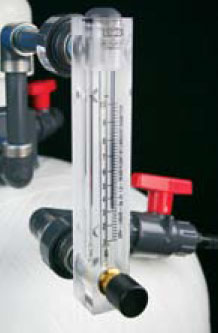 Easy Operation
Simply turn dial to the desired injection rate. Just pour wetting agent directly into tank and let your irrigation system do the work… saves man power!
(1-20 gallons per hour adjustment)
Features
Patented, fluid-flow technology for precise delivery
Adjustable feed rates for various mixing ratios
Easy filling – no pre-mixing or pre-blending
No moving parts means no down time or maintenance
Operating pressure 15 to 125 Psi maximum
Flo-Pro™ Vertical Tank Enclosure
Constructed of 12 gauge powder coated steel, enclosure is both light weight and durable. Louvered side panels for cooling and removable front panel for full access.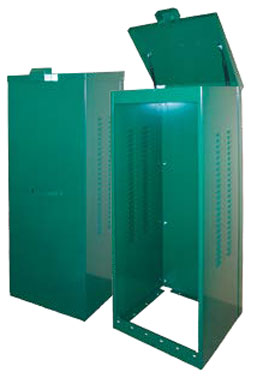 Ordering
Horizontal Tanks
Part #
Description
Part # IHF-010
10 Gallon Hi-Flo Horizontal Tank System
Part # IHF-017
17 Gallon Hi-Flo Horizontal Tank System
Part # IHF-025
25 Gallon Hi-Flo Horizontal Tank System
Vertical Tanks
Part #
Description
Part # IHF-045
45 Gallon Hi-Flo Vertical Tank System
Part # IHF-086
86 Gallon Hi-Flo Vertical Tank System
Vertical Tank Enclosures
Part #
Description
Part # IHF-MC45
Metal Vertical Enclosure for 45 Gallon Tank
Part # IHF-MC86
Metal Vertical Enclosure for 86 Gallon Tank
HI-Flo PVC Coupling Kits
Part #
Descriptions
Part # HFC-200
2" HI-FLO Coupling Connection w/ Ball Valve
Part # HFC-250
2-1/2" HI-FLO Coupling Connection w/ Ball Valve
Part # HFC-300
3" HI-FLO Coupling Connection w/ Ball Valve
Part # HFC-400
4" HI-FLO Coupling Connection w/ Ball Valve
Saddle Connection Kits
Part #

Description

Part # K-SVF-2

Saddle Venturi Fitting for 2" Mainlines, Includes 2 Saddles and Fittings, Clamps and 2 (qty) Stainless Steel Ball Valves

Part # K-SVF-3
Saddle Venturi Fitting for 3" Mainlines, Includes 2 Saddles and Fittings, Clamps and 2 (qty) Stainless Steel Ball Valves
Part # K-SVF-4
Saddle Venturi Fitting for 4" Mainlines, Includes 2 Saddles and Fittings, Clamps and 2 (qty) Stainless Steel Ball Valves
Part # K-SVF-6
Saddle Venturi Fitting for 6" Mainlines, Includes 2 Saddles and Fittings, Clamps and 2 (qty) Stainless Steel Ball Valves
Part # K-SVF-8
Saddle Venturi Fitting for 8" Mainlines, Includes 2 Saddles and Fittings, Clamps and 2 (qty) Stainless Steel Ball Valves
Part # K-SVF-10
Saddle Venturi Fitting for 10" Mainlines, Includes 2 Saddles and Fittings,Clamps and 2 (qty) Stainless Steel Ball Valves
Part # K-SVF-12
Saddle Venturi Fitting for 12" Mainlines, Includes 2 Saddles and Fittings, Clamps and 2 (qty) Stainless Steel Ball Valves
Part # K-SVF-16
Saddle Venturi Fitting for 16" Mainlines, Includes 2 Saddles and Fittings, Clamps and 2 (qty) Stainless Steel Ball Valves
Injector Accessories
Part #
Description
Part # IHC-FUN
High Capcity Funnel
Specification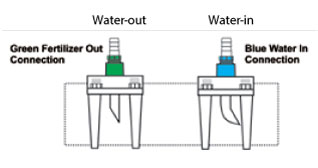 No pipe cutting required with saddle connection
Resources
Image Library